Kyocera's support in constructing a modular lab
Industry
Higher education
Thanks to individual planning, design, and construction, the wastewater and neutralization system have been tailored to the complex requirements of the newly established interim lab tract at KIT, ensuring smooth operation.
New modular lab at the Karlsruhe Institute of Technology (KIT)
In the course of extensive renovations to the Institute for Inorganic Chemistry, KIT faced a particular challenge: ensuring that research and teaching activities could continue undisturbed. The solution was a modular lab located right next to the building that was under construction. The required specific wastewater and neutralization system was developed by Kyocera in close cooperation with the institute. Enabling the research groups in the areas of organometallic chemistry, catalysis, and magnetochemistry to continue their work during the renovations.
Modular structure as a useful addition
"Modular structures are a useful addition, since they can be combined individually and installed in just a short time," explains Dr. Ralf Köppe, Academic Director of the Institute for Inorganic Chemistry at KIT. "They offer flexible solutions that can be put in place quickly and dismantled entirely once the construction work is done." Another advantage is that after use, individual modules can be taken apart and reused elsewhere on campus. That also means these kinds of facilities are maximally cost-effective.
High and specific requirements for the wastewater system
At KIT, there were particular challenges that needed to be resolved through design. For example, there was little to no possibility of installing traditional wastewater piping. "In our case, that was due to the concrete foundation that the modules were placed on. We had to pump the wastewater out through the ceiling to combine the individual discharge points and then feed it all into the sewer system centrally," Köppe explains. A conventional wastewater pumping system was not an option because the acids and bases contained in wastewater from inorganic chemistry labs would destroy standard commercially available equipment in just a short time, and that in turn would cause a failure and affect operations.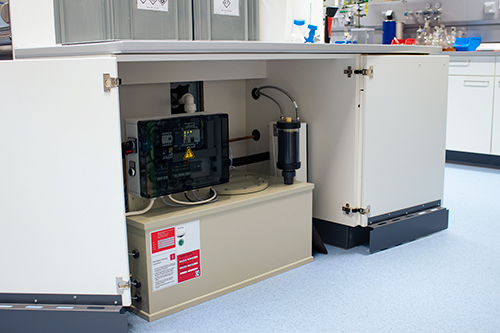 Chemical-proof pumping system integrated in head sink unit
Individual solutions from the material expert
With that in mind, Kyocera required a combination of several chemical-proof pumping systems and a buffer tank with a central neutralization system, all connected via an individual pipe system, for the lab facility at the Institute for Inorganic Chemistry at KIT. The individual components also had to be perfectly aligned with each other to ensure smooth and lasting operation.
Over 25 years of experience in lab and wastewater technologies
Thanks to years of known experience with producing wastewater neutralization solutions, Kyocera offers both compact, easily integrated neutralization systems and suitable accessories, such as pumping systems and buffer tanks. In particular, the FRIDURIT C100 system, which was developed by FRIATEC in the 1990s, is impressive for its innovative mix-pump assembly and tubeless feed-in of dosing chemicals. This neutralization system has set standards for safety as well. Kyocera has forged ahead with this mature, proven product, and an expanded range of accessories allows the company to implement individual solutions at low cost.
Neutralisation unit with safety tub in panel construction
Reliable development of individual solution for the KIT
This combination was also important for use at the Institute for Inorganic Chemistry at KIT. "The chemical-proof pumping system can transport even highly caustic or acidic wastewater from chemical processes safely and reliably, and the available buffer tanks allow for a customer-specific, self-contained overall concept," Köppe explains. However, the space that had originally been set aside for the combined neutralization system and buffer tank grew smaller and smaller due to the particularities of the construction process, so in the end, a project-specific prefabricated container was the only possible solution. Thanks to the experienced team of designers and highly flexible production activities, a special solution was developed in just a short time, allowing for timely delivery even under the circumstances.
The solution in detail
"We're really happy with our current solution," says Dr. Alexander Hinz, another user of the facilities. "The lab rooms are designed in such a way that we don't need much storage space and can work at the highest level even in close quarters." In the middle of the room, two parallel lab cabinet units end back to back in a cupboard that houses both the sink module and the pump system. In addition to saving space, the piping itself is another advantage, as only a few standard parts are needed between the sink and the pumping system. From a total of seven lab rooms with pumping systems, the wastewater is finally transported via a single trunk line to the buffer tank in the technical room, where the neutralization system is also located. A self-priming pump moves the wastewater in batches from the buffer tank to the neutralization system, where it is automatically neutralized. As soon as this process is complete, the neutral wastewater is pumped directly into the public sewer system. In the process, the system ensures that only wastewater that meets local municipal standards is discharged.
"We're really happy with our current solution. Thanks to the solutions from Kyocera, the lab rooms are designed in such a way that we can work at the highest level even in close quarters."
Dr. Alexander Hinz
Junior PI at KIT
Your contact
We will be happy to advise you personally about our products, as well as, about various possibilities of the individual adjustments to your application. Together we will find optimal solution for your process, starting from planning through to implementation. We are looking forward to your inquiry.
Environmental equipment
Christian Schmitt