back
Containment shells
Ceramic containment shells made of FZM ceramic for use in magnetically coupled pumps have clear benefits compared to other materials: Their use significantly increases process safety for people, machines, and the environment, while simultaneously optimizing service life and energy efficiency.
Ceramic high-performance material for maximum safety
All processes involving the pumping of toxic, odorous, or other aggressive media require highly specialized process technology to maximize the protection of pumps, employees, and the environment.
Due to its beneficial properties in several relevant areas, high-performance ceramics has been established as the most efficient material for containment shells used in magnetically coupled pumps. 20 years of experience have culminated in our current FZM ceramic containment shell manufacturing process. The resulting product is marked by high mechanical strength and flexibility, extremely good corrosion resistance against acid and alkali, and high temperature resistance against temperatures of up to 450°C. These properties make our ceramic containment cans wear-free, allowing for maximum product life and maintenance-free operation.
Due to their high chemical resistance and their longer service life compared to conventional materials, they are especially suited for use in corrosive media. Also, FZM ceramic is non-magnetic, preventing electrostatic charges, reducing heat development, and minimizing risk of explosion.
This enables ceramic containment shells made of FZM ceramic to withstand extreme conditions and fulfil the high safety requirements of demanding applications.
Coatings for ceramic containment shells expand application range
Applying a chemical-resistant, pore-free coating to the inside of our ceramic containment shells makes them suitable for pumping highly aggressive acids such as hydrofluoric acid. This leads to much longer service times and an expanded range of applications.
Coating the outside with titanium nitride reduces electrostatic charges and expands potential applications of the isolation shells in Group II explosive atmospheres to Category 2, Zone 1.
Optimized energy efficiency thanks to ceramic containment shells
Improving the energy efficiency of pumps and pump systems is of great importance to the overall process. Compared to metal containment shells, ceramic containment shells produce no eddy currents, which results in significant energy savings, and contributes to protecting the environment. This leads to a 10-15% reduction in power input.
Also, the distance between the outer and inner magnets is an important factor for reliable long-term performance. Our unique grinding technology has enabled us to significantly reduce wall thickness of ceramic pressure shells to only ca. 2-4 mm in the cylindrical section. Due to its low Young's modulus, FZM ceramic can endure enough elastic deformation to withstand high pressures of up to 60 bar.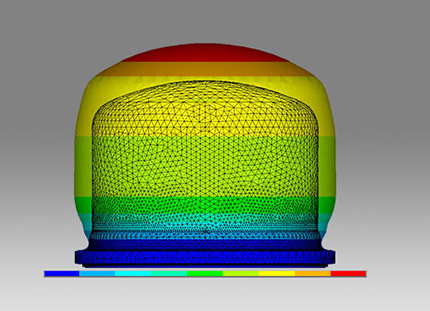 Determining maximum test pressure with a safety factor in relation to working/ nominal pressure using FEM analysis.
100 % of containment shells undergo pressure testing.
Current max. dimensions - flange diameter: up to 360 mm, height: 350 mm
Large components made of technical ceramics
Producing large ceramic components
Find out more
Your contact
We will be happy to advise you personally about our products, as well as, about various possibilities of the individual adjustments to your application. Together we will find optimal solution for your process, starting from planning through to implementation. We are looking forward to your inquiry.
Category Manager
Sandy Kraft
Do you have a specific inquiry?
Kindly advise technical specifics about project- and process requirements below. Thus, we will be able to provide you precise implementation options. We are looking forward to your request and we will personally take care of your issues, as soon as possible.
Product inquiry
Please describe your tasks as precisely as possible. Thus, we will be able to offer you best solutions.