back
Products | Ceramic multi-bore tubes
Ceramic capillaries
Multiple capillaries for measurement and control processes
Round and oval multi-bore tubes belong to our standard range of extruded products. In spite of thin wall-thicknesses, the dimensional stability of ceramic capillaries remains untouched. The usual bore diameters are 0.2 to 1.6 mm. Multiple capillaries made of DEGUSSIT ceramic can be manufactured with a different number of bores. Thermocouple components, electrically insulated, can be guided to the point of measurement via dual capillaries made of DEGUSSIT Oxide Ceramics.
Would you like a personal consultation?
We're happy to help you.
Contact us now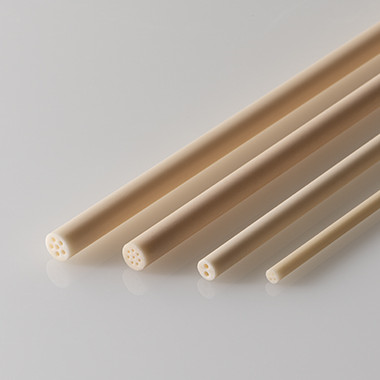 Multi-bore tubes round
Round multi-bore tubes made of DEGUSSIT ceramic allow precise wire guidance thanks to homogeneous hole spacing over the entire length of the tube. A temperature range from cryogenic to high temperature applications can be covererd.
Material:
DEGUSSIT AL23
DEGUSSIT AL24
DEGUSSIT AL25
Do you have a specific inquiry?
Kindly advise technical specifics about project- and process requirements below. Thus, we will be able to provide you precise implementation options. We are looking forward to your request and we will personally take care of your issues, as soon as possible.
Product inquiry
Please describe your tasks as precisely as possible. Thus, we will be able to offer you best solutions.